Child Care
Overview
The DC Courts offer free childcare services to any member of the public that has in-person business with the Courts, including jurors.
The Child Care Center promotes positive emotional, social, and physical development and provides a safe, stimulating, and fun experience for children ages 2.5-12 who are toilet trained.
Inclusivity: Staff work closely with parents to ensure that children of all ability levels can fully participate in program activities. All staff are trained annually in a variety of special education and accommodation courses specifically for this purpose. If your child has a disability or developmental delay, please let us know how we can best accommodate the needs of your child.
Contact: Phone: 202-879-1759; email: ChildCareCenter [at] dcsc.gov.
Location: The Center is in Room C-100 on the lower (C) level of the Moultrie Courthouse. For more detailed directions, see the Contact Us page.
Hours of Operation: Monday - Friday from 8:30 a.m. until 4:45 p.m.; closed for lunch from 1:00 - 2:00 p.m. Children must be picked up by 1:00 p.m. and may return after 2:00 p.m. The Center is not open on federal holidays (see Courts Holiday Schedule tab). Hours of operation may change due to inclement weather. Such changes will be posted in a red banner on the DC Courts' website.
Eligibility: The Child Care Center is available for children between the ages of 2.5 and 12 years old. Children must be fully toilet-trained and wearing underwear (no Pull-ups). If your child has special needs or a disability, please contact us to discuss how we can best accommodate your child.
Wellness: Any child who displays signs of illness during their visit at the Center must be picked up immediately by the parent or the parent's emergency contact. The child will be given a cot to rest on in a quiet area until they are picked up.
OTHER INFORMATION
Snack: Snack time will be offered in the mornings; afternoon snack will not be served until further notice. If you would like your children to participate then please pack a light snack for them. We ask that you refrain from packing any nuts or nut products. The Center does not provide food.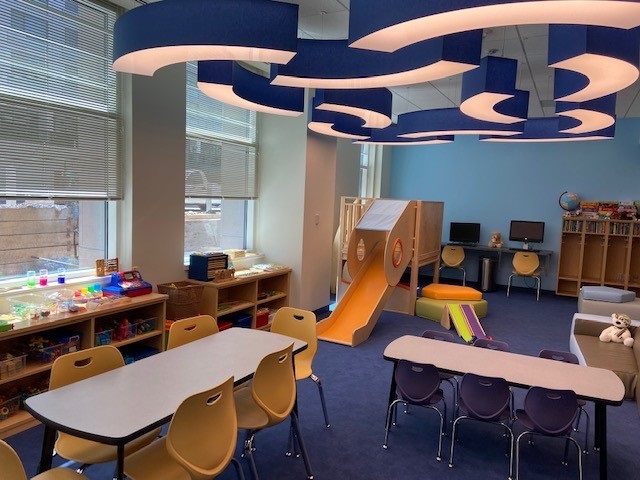 Licensing Status: The Child Care Center is licensed by the DC Office of the State Superintendent of Education. The license is posted in the reception area of the Child Care Center.
Staff: The Center is staffed by a director and an assistant director, with support of aides. All staff and aids are CPR and first-aid certified and comply with OSSE background check regulations and continuing education requirements.
REGISTRATION
Provide the following forms to the Center:
Find links to blank forms below as well. Submit completed forms in person or by email to ChildCareCenter [at] dcsc.gov. Note: Please come with your child's medical and dental forms already completed by your physician; these forms will be required on your child's second visit. The Oral Health Assessment Form is not required for children under 3 years of age.
| Title | Download |
| --- | --- |
| Child Care Center Brochure | Download |
| Child Care Center Handbook | Download |
| DC Child Health Certificate | Download |
| DC Oral Health Assessment Form | Download |
| OSSE Registration Form | Download |
| OSSE Emergency Medical Treatment Form | Download |