Child Care
The DC Courts' Child Care Center will re-open on a limited basis on April 5, 2021. Childcare services are free of charge to jurors and any member of the public conducting business in the DC Courts. The Center promotes positive emotional, social, and physical development and provides a safe, stimulating, and fun experience for children ages 2.5-12 who are toilet trained.
NEW COVID-19 PROCEDURES:
The safety of both children and staff is our top priority. Based on the guidance and recommendations of the DC Office of the State Superintendent of Education (OSSE), the US Centers for Disease Control, and the DC Courts' epidemiologist and industrial hygienist, the following procedures will be implemented:
Operating Status: Until further notice, the Center is open to jurors only.
Jurors are welcome to drop off their child(ren) during the jury selection process, which is currently held over a two-day period starting on either on a Monday or a Wednesday. (Please see your juror summons for your report date.)
If a juror is selected to serve on a jury, the juror must inform the Center in advance of childcare needs while the juror is serving on a jury trial. The Center may be reached at ChildCareCenter [at] dcsc.gov and 202-879-1759.
Capacity: Total capacity of the Center will be limited to four (4) children daily. Capacity will adjust as the DC Courts expand onsite operations. Consistent with OSSE guidelines, parents/guardians are permitted in the reception area, one family at a time, to complete the registration process. Tours of the entire facility are not available at this time.
Mask policy: Masks are required for all children, parents, and staff at the Center. Parents must bring extra masks in case their child's mask becomes soiled during their visit to the Center. Children will be admitted only if they are medically and developmentally able to wear a mask. Children may remove their masks during naptime.
Wellness check: Temperature checks will be required before parent(s) and child(ren) can enter the courthouse. Entry will be denied for temperatures at 100.4°F and over.
Any child who displays signs of illness during their visit at the Center must be picked up immediately by the parent or the parent's emergency contact. The child will be given a cot to rest on in a quiet area until they are picked up.
If any in your household has a confirmed case of COVID-19 or is quarantining while awaiting testing results, please do NOT bring your child to the Child Care Center.
Contact us: If you have any questions about COVID-19 sanitization or social distancing routines in the Child Care Center, please contact us.
Phone: 202-879-1759
Email: ChildCareCenter [at] dcsc.gov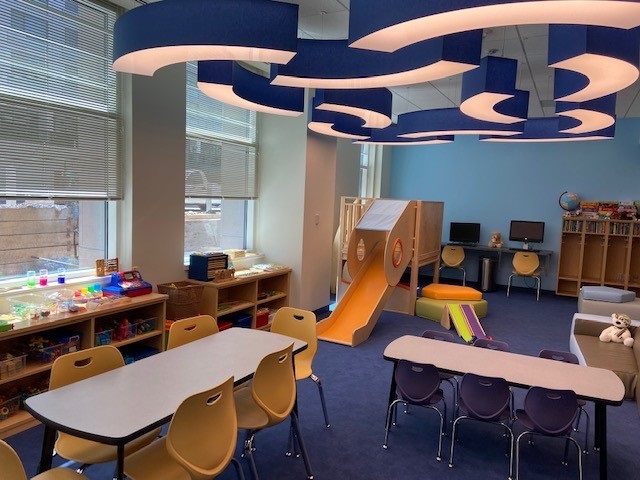 Location: The Center is in Room C-100 on the lower (C) level of the Moultrie Courthouse. For more detailed directions, see the Contact Us page.
Hours of Operation: Monday - Friday from 8:30 a.m. and 4:45 p.m. The Center is closed for lunch from 1:00 - 2:00 p.m. Children must be picked up by 1:00 p.m. and may return after 2:00 p.m. The Center is not open on federal holidays. Hours of operation may change due to inclement weather. Such changes will be posted in a red banner on the DC Courts' website.
Eligibility: The Child Care Center is available for children between the ages of 2.5 and 12 years old. Children must be fully toilet-trained and wearing underwear (no Pull-ups). If your child has special needs or a disability, please contact us to discuss how we can best accommodate your child.
Licensing Status: The Child Care Center is licensed by the DC Office of the State Superintendent of Education. The license is posted in the reception area of the Child Care Center.
Staff: The Center is staffed by a director and an assistant director, with support of aides. All staff and aids are CPR and first-aid certified and comply with OSSE background check regulations and continuing education requirements.
Registration: Provide the following forms to the Center:
Find links to blank forms below as well. Submit completed forms in person or by email to ChildCareCenter [at] dcsc.gov. Note: Please come with your child's medical and dental forms already completed by your physician; these forms will be required on your child's second visit. The Oral Health Assessment Form is not required for children under 3 years of age.
| Title | Download |
| --- | --- |
| Child Care Center Brochure | Download |
| Child Care Center Handbook | Download |
| DC Child Health Certificate | Download |
| DC Oral Health Assessment Form | Download |
| OSSE Registration Form | Download |
| OSSE Emergency Medical Treatment Form | Download |