Virtual DC Safe Surrender 2021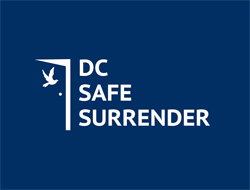 DC Safe Surrender 2021 is an opportunity for persons who are wanted for misdemeanor bench warrants in the District of Columbia to surrender voluntarily from a computer, laptop or cell phone with camera or webcam.
Advantages
This event is virtual; no need to come to the courthouse if you have a misdemeanor bench warrant.
Participants will be treated respectfully and fairly. Prosecutors have said they will give credit to those who participate and take responsibility for handling their warrant.
Defense attorneys will be present to represent anyone who doesn't have a lawyer. Contact information is below.
Criminal Justice Attorney: Anne-Marie Moore - (202) 306-6335,

themoorelawoffices.amm

[at]

gmail.com

DC Public Defender Service (PDS): (202) 628-1200
When is It?
Friday and Saturday, July 9 and 10, 9:30 a.m. to 4:30 p.m.
Friday and Saturday, July 16 and 17, 9:30 a.m. to 4:30 p.m.
Who Qualifies?
Anyone with a misdemeanor bench warrant issued by a DC Superior Court judge qualifies for DC Virtual Safe Surrender 2021. Once you register, you will be guided through the process and get instructions for logging in from a PC, laptop or phone at the day and time you've scheduled. You can look at a list of outstanding misdemeanor bench warrants to see if your name is on it.
Note: If you think you have an outstanding misdemeanor bench but are not on the list, please register anyway, and we will be in touch with you about your bench warrant status.
Misdemeanor Bench Warrant List
FREQUENTLY ASKED QUESTIONS
How do I find out if I have a misdemeanor warrant? You can check the active misdemeanor bench list online or call (202) 879-1373.
 
Will I be arrested? No, this is a remote event.
 
What if I do not have access to technology (tablet, computer or cell phone) or WiFi? The Court Services and Offender Supervision Agency (CSOSA) has field offices at 2101 MLK Avenue, SE, and 633 Indiana Avenue, NW, open for anyone who does not have a computer or smartphone and wants to participate in Safe Surrender.
 
What if I need help to access and complete the remote surrender process? You can call (202) 879-0020 or (202) 879-8769 for assistance.
 
What if I do not speak English? There will be court interpreters available online to assist you.
 
Can I surrender in person? At a local police station? At the Superior Court/Moultrie Courthouse? This is a virtual event.
 
How much time does the remote surrender registration process take to complete? Can this be done completely in one session? The registration form is short, and takes 3-5 minutes to complete. The registration can be done in one session. Someone will contact you within 24 hours after you have registered with the date and time of your virtual court hearing.
 
Do I have to wait until July 9-10 or July 16-17 to surrender remotely? No. If you have a lawyer, your lawyer can arrange for you to handle the warrant on a date and time before then.
 
What information, identification or paperwork do I need to participate in the remote safe surrender process? You will need an ID with your name, date of birth, and picture on it.
 
What if I do not have an ID? An attorney will be appointed to assist you, and you will be given an in-person court date to appear.
 
What is the process to participate in safe surrender 2021? Where do I go online? The process and registration link are at https://www.dccourts.gov/safesurrender.
 
What happens if I have a bench warrant but do not qualify for remote safe surrender? If you register and do not qualify, we will give you additional instructions. This event is only for misdemeanor bench warrants.
 
What if I have a felony warrant? This event is only for misdemeanor bench warrants. If you have a felony warrant you should turn yourself into the nearest police district, or speak to your lawyer.
 
Do I need a lawyer?/ Will there be a lawyer to help me? Lawyers will be available to assist you at this remote event. If you would like to speak with a lawyer in advance, please contact Anne-Marie Moore, Esq. at (202) 306-6335 or

themoorelawoffices.amm

[at]

gmail.com

(themoorelawoffices[dot]amm[at]gmail[dot]com)

. You can also contact the DC Public Defender Service at (202) 628-1200.
DC SAFE SURRENDER ON FACEBOOK
www.facebook.com/dcsafesurrender
PRESS RELEASE
DC Superior Court to Host Virtual Safe Surrender Program in July for Those with Misdemeanor Bench Warrants
VIDEO