Protection Order
UPDATES AS OF JANUARY 6, 2022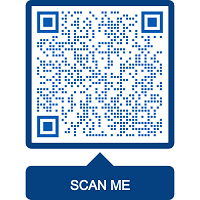 The Domestic Violence Division is located at 500 Indiana Avenue NW, Room 4510. During the COVID 19 remote operations, the DVD is accepting all flings remotely either online, by mail to the above address, or by email to DVD [at] dcsc.gov. You can also get to online forms by scanning the QR code to the right with your cell phone camera.
If you need help with the above forms:
Other links:
The Domestic Violence Division, located at 500 Indiana Avenue NW, Room 4510, handles:
Civil Protection Orders
All misdemeanor criminal cases involving an 'intra-family offense.'
Extreme Risk Protection Orders
A Civil Protection Order (CPO) may be requested by individuals alleging that a family member, romantic/dating partner, person with whom they have a child in common, share a common current or former partner, or currently or previously shared a residence committed or threatened to commit a crime against them. The Domestic Violence Division also adjudicates cases where individuals allege they are a victim of stalking, sexual assault, or sexual abuse. The request can include that the person who committed a crime against them stay away, not assault, threaten, harass or stalk them. After a Civil Protection Order is issued, motions for contempt can be filed if the Order is violated. When appropriate, judges in the Domestic Violence Division also adjudicate related divorce, custody, visitation, paternity and support cases involving the same parties, as well as certain related civil actions.
An Extreme Risk Protection Order (ERPO) may be requested to have an individual's firearm, ammunition, a registration certificate, a license to carry a concealed pistol, or a dealer's license removed from the possession of someone who poses an extreme risk to themselves or others. The request may be made by an individual who is related to the other party by blood, adoption, guardianship, marriage, domestic partnership, having a child in common, by cohabitating, or by maintaining a romantic, dating, or sexual relationship; OR member of the Metropolitan Police Department; OR a Mental Health Professional as defined by DC Code 7-1201.01(11).
Click here for Frequently Asked Questions about Extreme Risk Protection Orders. Pulse aquí para ver preguntas sobre la Orden de Protección de Riesgo Extremo. 
Click to see the Petition for Extreme Risk Order.