DC Courts' Pandemic Operations Information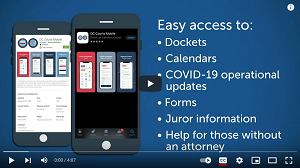 Haga click para Español | ኮቪድ-19 በተመለከተ ወቅታዊ መረጃዎች በአማርኛ ለማግኘት እዚህ ይጫኑ
See Videos

: DC Court of Appeals Operations During Covid-19 | DC Superior Court Online Services During Covid-19
CURRENT DC COURTS OPERATING STATUS
PERSONS ENTERING COURT BUILDINGS MUST WEAR A FACE COVERING OR MASK, per the January 21, 2022 court order. Also, please complete the online health screening tool and review the steps we've taken to help ensure your health and safety before entering our buildings. Visit this link or scan the QR code.
NO ONE SHOULD ENTER THE COURTHOUSE WITH COVID-19 SYMPTOMS such as or chills, cough, shortness of breath or difficulty breathing, fatigue, muscle/body aches, headache, new loss of taste or smell, sore throat, congestion or a runny nose, nausea/vomiting, or diarrhea.
Orders: COURT OF APPEALS COURT OPERATIONS ORDER FILED APRIL 28, 2022 | SUPERIOR COURT CHIEF JUDGE'S ORDER RE. OPERATIONS AMENDED JUNE 10, 2022 | CLERK OF COURT'S NOTICE OF CLERK'S OFFICES OPERATIONS - UPDATED DECEMBER 2021
Remote Hearings: REMOTE HEARING INFORMATION | REMOTE SITE LOCATIONS AND TIPS
July 2022 Bar Exam Information
Civil | Criminal | Domestic Violence | Family Court | Probate | Tax
Clerk's Offices Operations | Non-Attorney Legal Services
---

The Superior Court is holding hearings in the following types of cases:

CIVIL - In-person jury trials have resumed. Trials can still be viewed remotely using Webex. All other hearings remain remote. Please scroll down the page and select Civil - Landlord Tenant - Small Claims on the left-hand side of the page for more information.

CRIMINAL - February 14, 2022 Update – Jury trials have resumed. Anyone who wishes to observe a jury trial must come to the trial court room. (Remote viewing is no longer available for criminal jury trials.) Overflow space is available if needed. See the June 10, 2022 order for other operations. Scroll down this page and click on Criminal on the left-hand side of the page for more information.
DOMESTIC VIOLENCE
- The Domestic Violence Division is operating remotely, unless a specific judge's order that a hearing will be held in person. Parties in DVM and CCC cases should file electronically. As of May 10, 2021, all hearings for released defendants will not be continued and instead will go forward remotely on the date and time they are scheduled in courtroom 117 and courtroom 118. Further, all CPO, ERPO, and related cases will take place approximately two weeks after the case is filed. Criminal contempt arraignments are being heard in remote courtrooms. Child support cases where there is an accompanying CPO will be heard in remote courtrooms. ERPO hearing dates will not be continued/postponed, but will be heard on the date consistent with the January 18, 2021, March 31, 2021, May 19, 2021, July 14, 2021, September 11, 2021, November 21, 2021, April 8, 2022, or
June 10, 2022
scheduling orders.
If you do not want to or cannot do the call from home, the court has
sites available around the city
where you can schedule time to use a court computer to participate in your hearing. 

The Domestic Violence Division Clerk's Office is available in person and remotely from 8:30 a.m. to 5:00 p.m., Monday through Friday. The DVD Clerk's Office at the Moultrie Courthouse is open. However, you can still file online; click here to access the forms.
Additional information:
FAMILY COURT - See the June 10, 2022 order for the current status of Family Court operations. Scroll down the page and select Family on the left-hand side for more information about Family Court.

PROBATE - The Probate Division's public service counter is open Monday through Friday, 8:30 a.m. – 5 p.m., with limited staff for persons who wish to file documents or view cases in person. Services will continue to be provided remotely, and electronic filing will continue. All hearings are held remotely until further notice. See complete information about the status of Probate operations as of June 10, 2022.

TAX - Scroll down the page and select Tax and Auditor Master on the left-hand side for information.
---
The Clerk of Court's Office, and the various divisions' clerks offices are all operating remotely and in person. Electronic filing will continue. For information on remote operations, and how to get certified copies, see the Clerk of Court's Notice of Clerk's Office Operations.
---
LIST OF LEGAL SERVICE PROVIDERS FOR THOSE WITHOUT AN ATTORNEY
Spanish | Amharic | Chinese | Tigrinya